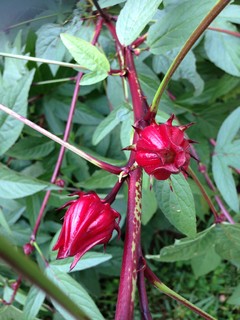 Adding a few aromatic accents to your landscape design plans will make it both fragrant and appealing. One of the most tantalizing plants you can place in your garden is the simple and
often overlooked Roselle
. It's a hearty hibiscus that looks pretty and tastes great.
Whether you want to call it a vegetable or a fruit, the bottom line is that it is an attractive plant that provides a splash of red, pink, and purple to your landscape throughout the fall. While you may be tempted to try planting tropical plants to achieve the same colorful effect, they won't survive in our temperate climate, whereas Roselle will thrive.
Best of all, the calyxes surrounding the seed pod can be eaten right off the plant. You can also dry the leaves and mix them with your favorite tea. This makes Roselle a delicious multi-purpose addition to your landscape that you will want to plant time and time again and savor as the years pass by.
For more information about Roselle and how you can incorporate it into your Kansas City home's landscape design plan, contact Hermes Landscaping and we will be happy to offer you our services.                                                                                                            Roselle via Houzz